---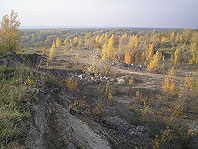 Background
In 2003 (thanks to the help of Palev Vlaschenko, Sergey Chernyh and Anton Biatov) a deep crevice in a wall of the abandoned open quarry with bat droppings was occasionally found (Kharkov Province, Izumsky district). In the first night more than 120 bat individuals of 6 species were captured, including new species for the region.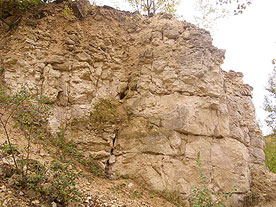 The open quarry is located at the the right high bank of the Seversky Donets River not far from the place of confluence of the Donets with Bereka river. From the high wall of the quarry there is a beautiful view at the left bank of the S. Donets River with borderless forests. Beside the beautiful view the open pit is the Klondike for bat researchers. The quarry is a place through which bats follow during autumn migration to hibernacula. Hundreds of bats stay for hibernation in the crevice of the quarry.
On the base of results of 2003-2005 the working hypothesis was advanced that there could be others quarries or natural denudations with bat-crevices in the region. The investigation was supported by Scholarship Program of The Bat Conservation International; the project name "Key Role of Bat Hibernation Sites in Deep Rock Crevices for Their Conservation on a Territory without Natural Caves, North-eastern Ukraine".
During the project (2006-2007) we had examined a big territory in the Kharkov Province (near 1000km2). We'd spent more than 60 field days and footed over more than 200 km. Unfortunately, we did not find any other open pits inhabited by bats or natural denudation with bat-crevices. Thus, we concentrated our research at already known quarry near Zavody village in Izum district. During the project we had 19 field days catching bats in the open quarry. Then 543 bat individuals of 10 species were caught.
A description of the work is available also in BATS Magazine (as PDF or HTML).
The main tasks are:
to study phenology of bat migration,
to study sex and age structure of the bat assemblage.
Executors
A. Vlaschenko (leader), M. Kharyakova, S. Saprykin, A. Biatov, A. Naglov, A. Gukasova, D. Elagina, V. Kornienko.
The main results are presented in the papers
Vlaschenko A. S. Chiroptera of the western part of the Izum Bend — materials for conservation // Research at the territories of reserves in Kharkov region. Iss. 2. - Kharkov, 2006. - P. 73-82. (In Russian.) >>>
Vlaschenko A., Naglov A. A marl open pit as a unique place of bats (Chiroptera) inhabiting // Vestnik zoologii. - 2005. - 39 (2). - P. 94.