---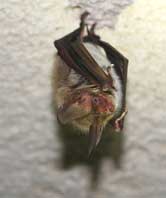 Funding
The project was supported by DEFRA.
Background
Since 1999 Ukraine is a party of EUROBATS. According to the Agreement each party should identify sites which are important for the conservation of bats; and protect these sites from damage or disturbance.
The territory of Podillya and Dniester River Region is one of the richest by number of underground cavities in Ukraine. The territory concerned is one of the richest regions of Ukraine by a number of bat species. Here 22 bat species had been registered. 16 species were found in caves of the region, and 7 of them are included in red lists of IUCN and Red Book of Ukraine (IUCN, 2004; Червона книга України, 1994).
According to the available information, today (after more than 10 years of serious economic recession) activities have begun and are ongoing in the region to develop underground cavities for recreational and practical purposes (equipping caves for excursions, using mines for growing mushrooms, etc). Up-to-date information on the cave-dwelling bats of the region is fragmentary and concerns only the winter season.
A full-scale census of cave-dwelling bats of the region is necessary to implement effective measures for bat conservation, including prevention of full or partial destruction of their underground roosts.
Main executors
L. Godlevska (project leader), M. Ghazali (Schmalhausen Institute of Zoology of NAS of Ukraine), V. Tyschenko (National Agrarian University).
Main results
Wide bat census was carried out in summer 2006 and winter 2006/2007. (It is the first census of such fullness.) Investigations covered five administrative provinces of Ukraine: Vinnytsya, Chernivtsi, Khmelnytsky, Ternopil and Ivano-Frankivsk Oblasts. 49 points were examined (exhausted and active limestone mines, chalk mines, mines for extraction of spherical phosphorites, natural caves and grottoes, sacral and fortification underground cavities — totally, more than 70 separate underground objects). Most of objects (and points as well) were examined for bat census in them firstly.
Work was carried out by a standard scheme: in summer, visual examination of shelters and netting of bats during evening departure with a harp trap and mist nets; in winter, counting hibernating animals in cavities.
14 bat species were revealed: 1 Rhinolophus, 8 Myotis, 2 Plecotus, 1 Barbastella, 1 Pipistrellus, 1 Eptesicus. Most of records is an essential addition on status and distribution of those bat species in Ukraine, generally. Among found species there are such rare for Ukraine as M. bechsteinii, M. dasycneme, M. nattereri, M. brandtii, B. barbastellus.
Basing at census results, 11 undergound cavities or their compexes, which are highly important for bats, were determined: three, in Vinnytsya Oblast; two, in Chernivtsi Oblast; three, in Ternopil Oblast; and three, in Khmelnytsky Oblast.
In 2007 executors started an implementation of some practical measures on conservation of determined important underground sites.