---
In 2012 for the first time in Ukraine International bat night is celebrated with opened for everybody events at once in five cities: Kamyanets-Podilsky, Kyiv, Lviv, Luhansk and Kharkov.
KAMYANETS-PODILSKY
International Bat Night in the city of Kamyanets-Podilsky was celebrated on 12 September. In this date an opened for everybody excursion through the old city park had a place. Participants have an opportunity to hear a lecture about bats, to see hunting bats and to hear them through bat-detectors.
Organisers: research officer of the National natural park "Podilski Tovtry" Mykhailo Drebet with colleagues: Artem Grygorchuk, Vadym Martynjuk and Olena Demjanova.
KYIV
In Kyiv Bat Night – 2012 was celebrated on 15 September with opened meeting in "Feofaniya" Park. The event started with the illustrated lecture (in the auditorium of the Megapolis Research Centre). The second part of the meeting included an excursion. During the walk through the park participants had observed bats and heard them with aid of bat-detectors.
Organisers: Lena Godlevska, Maria Ghazali (Institute of Zoology, NAS Ukraine), Volodymyr Tyshchenko (National University of Life and Environmental Sciences of Ukraine).
The meeting was carried out with assistance of Research centre of megapolis ecomonitoring and biodiversity, NAS Ukraine.
| | | |
| --- | --- | --- |
| | | |
| | | |
LVIV
In Lviv International Bat Night was celebrated on 10 September. In the evening there was an educational excursion, opened for all, through "Pogulyanka" Park. Participants talked about bat, observed them and listened through ultrasound detectors.
Organisers: Oleksandr Kusnezh (Lviv National University).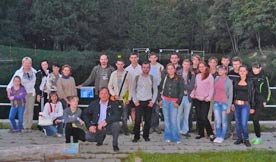 KHARKIV
The first International Bat Night in Kharkiv took place in the Kharkiv Zoo on 16 September 2012. At 17.30 p.m. 148 people (schoolchildren, young naturalists, students, pensioners, parents with children, university and zoo officers) have come to zooclub hall of the Kharkiv Zoo. Bat experts – Alona Gukasova (Kharkiv Zoo), Anton Vlaschenko (Kharkiv National University) and Ksenia Kravchenko (Wroclaw University) – made a multimedia presentation about bats and peculiarities of bat life in cities. Visitors were divided into two groups and besides lecture about bats, participants of Bat Night made an excursion through the evening Zoo, listening the story about another night animals.
During the lecture we told people about amazing world of bats, their diversity and what to do when you find a bat. After that we demonstrated alive bats (a soprano pipistrelle bat, a pond bat, a brown long-eared bat and Egyptian flying fox). Then we made an excursion to mass bat hibernation places in the city center – in buildings of Kharkiv National University and Derjprom. Participants could hear sounds of bats in flight due to bat detectors. At the end of the event the most active participants went to Kharkiv forest-park where they saw natural roosts of bats – hollows in trees and bats which were hunting in the warm evening.
It was delightful that on Sunday evening citizens of Kharkiv really enjoyed study one of the most mysterious groups of animals – bats!
| | | |
| --- | --- | --- |
| | | |
| | | |
Compilation: L. Godlevska